Wedding Dress: Purchased!
Last Saturday I picked out and purchased my wedding dress at Brides Against Breast Cancer.  Brides Against Breast Cancer is a non-profit organization that sells discounted wedding dresses to benefit the Making Memories Breast Cancer Foundation.  I was able to not only find my wedding dress there, but I found a veil and tiara to match. I found out about the event in an article in The Washington Times which went on to explain "Brides Against Breast Cancer gowns typically sell for $400 to $800, a fraction of the retail price. Some gowns are worth as much as $8,000 … Many brides are looking for a deal, as well as a way to help someone. "  Finding my wedding dress is truly the icing on my wedding cake. Oh yeah cake … I still have a lot more planning to do!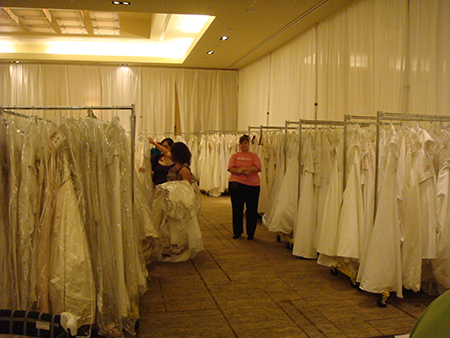 This is just half of the dresses they brought to the event at The Westin Hotel in Arlington, VA.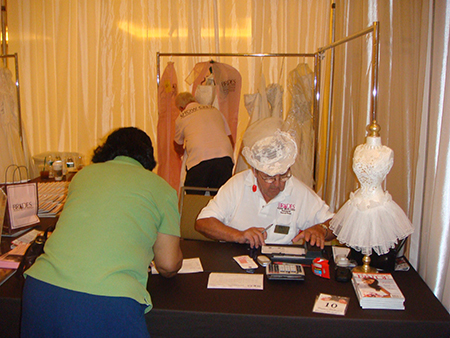 This is my Mom getting my dress, veil and tiara! The man in the back is putting my dress in the protective cover! NO peeking!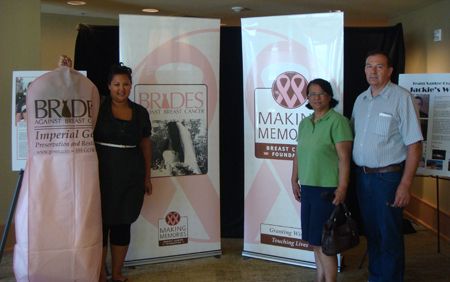 I got my wedding dress and we helped Brides Against Breast Cancer! ( From Left to Right: Me, my Mom and Dad)
Tags