The Rain Couldn't Stop Our Wedding Shower
Even though it was pouring outside, Russell and I really enjoyed our wedding shower a couple of weekends ago. I mention Russell because it was a co-ed shower, with women and men. We knew we couldn't leave anyone out and I am glad we didn't. First off, I want to thank my Aunts, Bridesmaids, Mom and Dad so much for a lovely party and helping out with everything.
After most of our friends and family arrived we started the afternoon with lunch. There was Red Hot & Blue BBQ, hot dogs, purple potato salad and other homemade dishes. The bridesmaids got the featured cakes (a strawberry shortcake and a red velvet cake) from Desserts By Gerard and friends and family brought other yummy desserts. The bridesmaids announced to the guests to try to take the "Russell and Kristina Trivia Quiz" while eating lunch. I had some guests try to ask me questions off of the quiz and I almost unsuspectingly answered them. I caught myself however and avoided giving them the answers (how sly of them).
After lunch we moved on to another shower game called "The Soon-to-be Newlywed" Game, which involved Russell and I sitting back to back in the center of room with our own dry erase board and marker. My Maid of Honor, Jeanette, asked us questions to see how well we knew each other and then she turned the questions over to our guests. I just kept thinking, "No matter the outcome or the score, we are still getting married!" I think we fared pretty well. We have so much history (9 years to be exact) that it was hard to recall the details of our first date!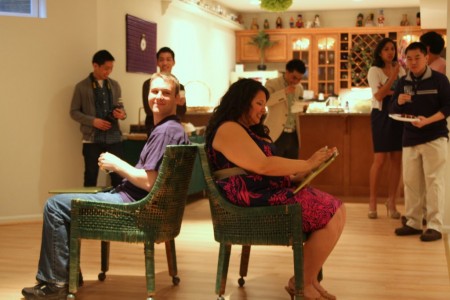 The next game the bridesmaids planned was the toilet paper bride game … with a twist! Since it was a co-ed wedding shower, the men were included in the game as well. The guests were divided into groups with each group getting black crepe paper and white toilet paper. Their job was to pick two people in the group, a "bride" and a "groom", who were to be outfitted with a gown and a tuxedo made entirely from the materials. It was hilarious seeing everyone trying to create their best paper outfits. The results were fantastic given the constraints but I don't think we will be contracting anyone to be our outfit designers for the wedding day! Here is the winning couple …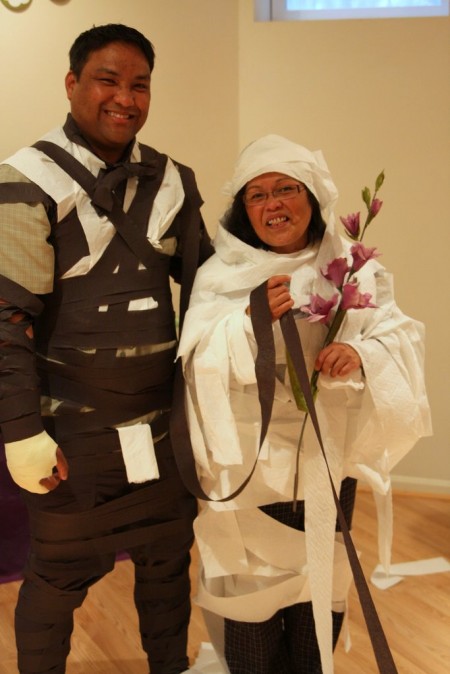 After all of that fun, we continued the night with some awesome line dancing! I had the best time and some of our guests got a sneak peek into the line dances that will be played at our wedding. Before the guests left there was a "Well Wishes" bird-cage, where they would leave words of wisdom or happy thoughts for us. Also, there was a candy bar for guests to fill small Chinese-takeout boxes to take home as their favor. The candy bar consisted of purple Mike & Ikes, purple yam (Ube) gummies, green watermelon jelly beans, green M&M's, green apple gummy rings, and white candy covered chocolates. The candy bar was displayed in elegant apothecary jars and the Chinese boxes stacked next to it with little "R & K" logo stickers on them.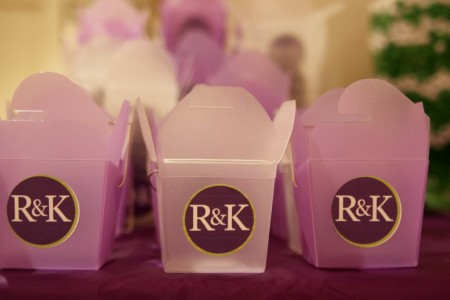 The whole day was so much fun and time just flew by. It's scary to think that our wedding day will seem to go by even quicker. It was wonderful to see all of our family and friends come out and make our wedding shower truly memorable.
Tags